Cryptocurrencies have completely dominated the new phase of technological revolution. At the same time, blockchain networks evolved with multiple utilities through different types of smart contracts. On the other hand, you must have noticed how NFTs, DeFi, and the metaverse are making some noise in the crypto space. All of these combined together spell the future of the web and digital technologies under one specific term, "Web3". 
Many people are interested in the top web3 trends as the impact of decentralization has been driving promising improvements in various sectors. The growing demand for decentralization has also created anticipation regarding the large-scale adoption of web3. The following discussion helps you learn about the top trends expected in the domain of web3 for 2022. 
Join Our Annual Membership and become a Featured Member now!
Why Should You Care about Web3 Trends?
The necessity of decentralization, open and interconnected digital experiences, along with control over data ownership and digital identity, enforces the importance of web3. Any individual interested in web3 trends for 2022 must have a clear impression of how web3 contributes value to the world. A clear overview of the benefits of web3 can show you why you should care about web3 trends. Here are some of the top reasons for which web3 can grow into a huge technological revolution in the future. 
One of the foremost highlights in the future of web3 would refer to exclusive data ownership. Users can get complete authority over the data they create or own and can decide which information they want to disclose. 
The primary reason for considering web3 as the future of technology focuses on decentralization, which would remove centralized authorities. As a result, users don't need anyone's permission to join the web3 ecosystem to capitalize on digital solutions and services. 
Another prominent highlight in majority of web3 blockchain trends points to encouraging strategies that favor user privacy. Web3 would take away the centralized servers, which exert complete control on user data and content. Decentralization and privacy are the biggest traits of web3, which showcase the possibilities of a large-scale shift. With users in control of their data and content, privacy would definitely take an upper hand. 
Build your identity as a certified blockchain expert with 101 Blockchains' Blockchain Certifications designed to provide enhanced career prospects.
Top Trends Expected for Web3 in 2022
The hype around web3 obviously calls for reflecting on the existing state and future prospects for the new version of the internet. The list of web3 predictions for 2022 can showcase a detailed overview of how the web3 landscape would shape up. Here is an outline of the top trends you can notice in the world of web3 in 2022.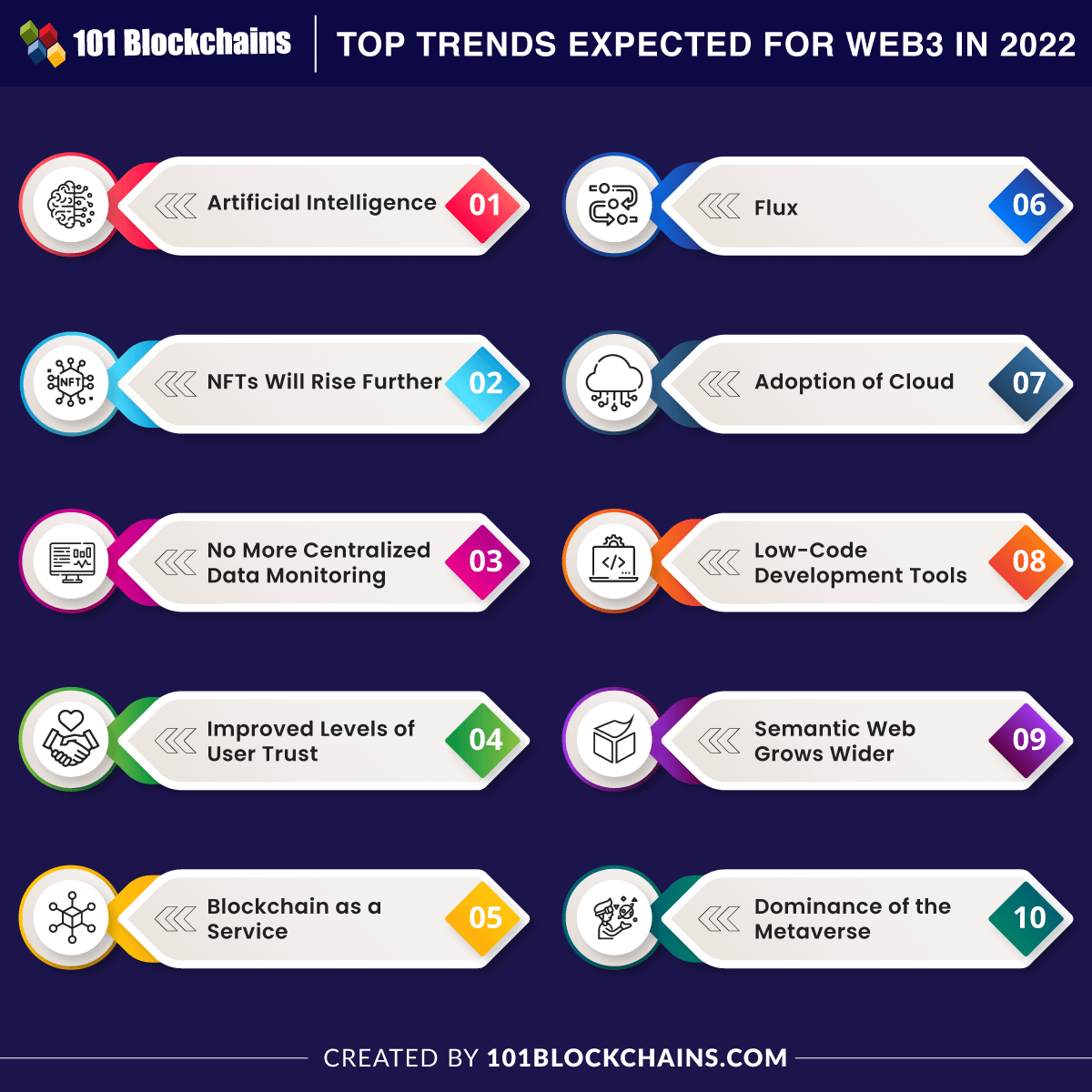 1. Artificial Intelligence
The blend of artificial intelligence or AI with web3 is obviously one of the biggest trends you should prepare for in 2022. AI could introduce promising improvements in decision-making capabilities along with easier detection of issues in computer networks. Artificial Intelligence is obviously an innovative improvement for web3 as it can help in streamlining various tasks. The capabilities of AI for introducing promising improvements in CRM systems show how it can change the face of web3. It can basically transform a web3 ecosystem into a self-updating system with detailed track of transactions and data exchanges. 
The blend of AI with web3 will be one of the top web3 trends that can resolve the perceived imperfections with web3 solutions. Users can achieve better productivity and operational efficiency by leveraging AI-powered web3 solutions. Furthermore, AI would also serve a promising role in resolving the concerns of human error alongside delivering the advantages of analytics. 
2. NFTs Will Rise Further
The next entry among web3 trends in 2022 would reflect on the role of non-fungible tokens. NFTs will grow further in 2022, and so will their significance in web3. As a matter of fact, NFTs are an essential resource for helping web3 users with representation of their assets. The applications of NFTs would also help in improving the knowledge of people regarding web3 principles. For example, the true ownership associated with NFTs is a unique highlight which is one of the characteristic principles of web3. 
Interestingly, NFTs can leverage web3 for easier legalization of NFTs through simple requirements. Therefore, creators could easily interact with their buyers, thereby offering better prospects for selling their NFTs. In a way, you can use web3 as an open platform for developing and trading NFTs. The role of NFTs in future of web3 is evident in the facility for verifying asset ownership within the web3 landscape.
Aspiring to Become a Certified NFT Expert? Enroll in Certified NFT Professional (CNFTP) Course Now!
3. No More Centralized Data Monitoring
The arrival of web3 signaled the onset of the decline of centralized systems. One of the most significant highlights in popular web3 trends would obviously focus on how social media platforms plan to capitalize on decentralization technology available with web3 technologies. The web3 predictions in 2022 would obviously draw on the example of Facebook, which is on the road to web3 transformation with Meta. As a matter of fact, blockchain ledgers and smart contracts would serve as the new elements in the foundation of social media. 
Web3 has successfully resolved many issues such as mismanagement of data, inaccurate information, or breaches in privacy. As a result, users can have a secure and safe environment for participating and interacting with each other. Decentralization could provide the assurance of security and protection for every bit of information you add to the new social media networks. In addition, blockchain technology can also ensure the benefits of immutability and encryption for social media users.
4. Improved Levels of User Trust
The outline of web3 blockchain trends you can expect in 2022 would show the prospects for improved user trust in web3 platforms. Web3 can ensure awareness and implementation of peer-to-peer regulations throughout blockchain networks. It would help in combining consensus algorithms and cryptography to develop a better impression of the extent of decentralization. In addition, these advantages would imply the possibilities for adoption of web3 as promising alternatives to the popular standard databases used right now. 
Decentralization will play a key role in driving positive improvements in the trust of users. It can provide the assurance of sole ownership of user data. Only the concerned user would have access to the data which you upload, modify, save or use in certain applications. The benefits of decentralized systems for increasing the levels of user trust focus on the potential for ensuring accountability. As users don't have to bother about security and access to their valuable data, web3 can actually introduce credible improvements in user experience. 
Want to learn blockchain technology in detail? Enroll Now in Certified Enterprise Blockchain Professional (CEBP) Course
5. Blockchain as a Service
The top web3 trends you can expect in 2022 would also include the possible rise of Blockchain as a Service or BAAS. It can serve as a promising tool for flexible and easier integration of blockchain technology in existing business systems. The good thing about Blockchain as a Service refers to the freedom from installing any hardware or other resources to get the best of web3 technologies. BAAS can help you create a secure and stable blockchain setup, which helps in taking control of all processes. 
The rise of BAAS in the web3 ecosystem for 2022 would imply easier access to multiple benefits. Automation and increased efficiency are obviously the top highlights you need to consider with web3. You can also look for the advantages of better transparency, traceability, and security as the top reasons for adopting BAAS. The use of Blockchain as a Service would also introduce many businesses to the domain of web3.
6. Flux
Flux is one of the popular tools which has been gaining attention in the web3 landscape. It helps developers with a foundation to develop the next generation of the web. Flux enables developers to come up with innovative ideas for web3 applications with the support of FluxOS, the decentralized operating system tailored specifically for Flux users. 
Counted as one of the most promising resources for the future of web3, Flux delivers exceptional support for smart contract development. You can rely on the safety and cost-efficiency value advantages with the use of Flux. The guarantee for data security can easily resolve the concerns of potential web3 participants regarding fraud and data breaches during dApp development. 
Start learning Blockchain with World's first Blockchain Skill Paths with quality resources tailored by industry experts Now!
7. Adoption of Cloud
The ways in which cloud computing can complement the web3 landscape reflect primarily on storage. Almost every business utilizes cloud technology to facilitate working from any location in the world. Many companies have been interested in blockchain and the potential of cloud-native systems. The routine use of cloud storage in different business processes calls for adoption of cloud in web3. 
The list of web3 blockchain trends would also focus on how businesses can welcome cloud computing in the world of web3. Cloud computing could introduce many promising improvements for the web3 landscape in future. For example, on-demand self-service, faster and efficient virtualization, and multi-tenancy options. 
The prospects for cloud computing in web3 also rely on access to low-cost and reliable computing services. At the same time, cloud computing also brings the added advantage of inherent safety. Furthermore, you must also notify the advantage of constant accessibility alongside the flexibility for scaling cloud computing resource usage according to requirements.    
8. Low-Code Development Tools
The advancements in smart contract development have called for the rise in low-code platforms. One of the prominent web3 trends in 2022 would emphasize the use of no-code or low-code application development platforms. As a result, development of web3 applications will be accessible to everyone. You wouldn't have to be a programming expert to build your own web3 application in the future. Developers can create decentralized applications and smart contacts without any experience in coding. 
The benefits of low-code or no-code development tools can revolutionize the web3 landscape by inviting more participants. With the assurance of improved flexibility and efficiency, low-code development tools and platforms can encourage new ideas. The low-code platforms also support effective risk management alongside tracing accountability. On top of it, low-code development also opens up the prospects for easier upgrades and modifications in the web3 applications. 
Want to know the real-world examples of smart contracts and understand how you can use it for your business? Check the presentation Now on Examples Of Smart Contracts
9. Semantic Web Grows Wider
The possible web3 predictions for 2022 also reflect on the use of semantic web on a broader scale with web3. Semantic web is one of the integral traits associated with web3 and helps in enhancing the communication between machines and humans. It basically implies that computers could understand what you want to say beyond the boundaries of syntax rules. Semantic web primarily involves creation of data stores alongside developing vocabulary and establishing the rules for proper data management. In addition, AI-based bots and agents can access and understand the humongous volumes of data. 
Web3 would improve by considerable margins with the growth of semantic web capabilities. For example, semantic web could serve as a crucial determinant for accuracy of the searches. In addition, the semantic web can help in reducing asymmetric information, which would ensure that users are better informed.
10. Dominance of the Metaverse
Not only NFTs but the metaverse would also be the biggest trend you can expect for web3 in 2022. As one of the top web3 trends, the metaverse would provide the grounds for engaging users in three-dimensional, immersive experiences. Users can participate in different digital services and other activities on the metaverse through 3D virtual avatars.
The open, shared, and persistent 3D virtual worlds could differentiate web3 distinctively from the previous iterations of the internet. Examples of big companies trying out their luck in the metaverse right now with massive investments show how the metaverse will be a huge trend in the future. 
Aspiring to Become a Certified Metaverse Expert? Enroll in Certified Metaverse Professional (CMP) Certification Course Now!
Final Words
The future of web3 definitely features some promising highlights for businesses and users. As a new and improved take on the internet, web3 is all about revising the user experience implications. For example, the emphasis on user privacy and data ownership are a few notable traits in web3. On the other hand, it is also important to note how web3 would gradually evolve into a full-fledged iteration of the internet. As of now, web3 is in the stages of infancy and has not matured enough. Therefore, the expected trends for web3 now would have a significant role in defining its future. At the same time, we can see the growth of web 4.0 and web 5.0 as mobile web and symbiotic web respectively, being more powerful than web 3.0. 
However, in the current scenario, web 3.0 is developing more with a lot of opportunities for the aspirants. Start learning more about web3 technologies and become an expert.
Join our annual/monthly membership program and get unlimited access to 30+ professional courses and 55+ on-demand webinars.
---
*Disclaimer: The article should not be taken as, and is not intended to provide any investment advice. Claims made in this article do not constitute investment advice and should not be taken as such. 101 Blockchains shall not be responsible for any loss sustained by any person who relies on this article. Do your own research!