The global blockchain market was reportedly worth $4.98 billion in 2021, a staggering growth for a decade-old technology. On top of it, estimates suggest that the market might grow up to $67 billion by 2026. Regardless of the forecasts, you can notice the rise of blockchain technology in various sectors, beginning with financial services. Many aspiring professionals want to become blockchain consultant for various reasons other than the popularity of blockchain. 
New and innovative trends from the world of blockchain have been garnering attention from all over the world. For example, NFTs and DeFi are some of the recent innovative applications of blockchain adopted across the world. On top of it, blockchain also offers the flexibility to choose from multiple career options, such as a blockchain consultant. The following post will help you find out the best skills you need to become a blockchain consultant. 
Join Our Annual Membership and become a Featured Member now!
What is the Scope for Blockchain Consultants?
The radical growth in adoption of blockchain technology turned the attention towards use of blockchain in many industries. How are blockchain consultant skills relevant to the use of blockchain technology? At this point in time, you need to wonder about the role played by blockchain consultants in the adoption of blockchain. Businesses want to use blockchain technology, albeit without any prior experience or knowledge regarding the same. 
Blockchain can be difficult to understand for many businesses which encounter the technology for the first time. In addition, it is also important to note how blockchain use cases can create concerns of resistance from the workforce without proper training. How can businesses use blockchain without any prior experience with it? The answer would point you towards a blockchain consultant.
Blockchain consultants are an important role in the modern blockchain ecosystem for determining the direction of blockchain projects. As the name implies, they can provide the value of consultation regarding design, development and implementation of blockchain projects. The primary scope of blockchain technology consulting revolves around determining the ideal technology for achieving desired business outcomes. In simple words, blockchain consultants tell you how you can use blockchain and help you select the tools which make it possible.
Build your identity as a certified blockchain expert with 101 Blockchains' Blockchain Certifications designed to provide enhanced career prospects.
Responsibilities of a Blockchain Consultant
The next important point of concern for a blockchain consultant career would refer to how blockchain consultants serve their responsibilities. If you want to learn the skills required for blockchain consultants, then you must know about their responsibilities. The responsibilities of blockchain consultants keep evolving with the growth in new and innovative use cases. On the other hand, you must also notice how blockchain advancements in the form of NFTs, DeFi and other applications have been transforming the priorities of businesses and the general public. 
An overview of the responsibilities in blockchain consultant jobs is a mandatory requirement before you learn about the skills and their implementation in practice. First of all, blockchain consultants have to take care of research and analysis alongside the development of new growth strategies to support blockchain firms. 
At the same time, blockchain consultants have to offer recommendations regarding key decisions which can affect business efficiency. Blockchain consultants can also navigate the requirements associated with a specific blockchain solution and how you can resolve the problems associated with them. 
Furthermore, blockchain consultants must also work on offering new and productive insights based on latest trends and technological advancements. Another crucial responsibility for blockchain consultants revolves around delivering appropriate guidance for optimizing expenses on blockchain technology.
Want to learn blockchain technology in detail? Enroll Now in Certified Enterprise Blockchain Professional (CEBP) Course
Skills Needed to Become Blockchain Consultants
The average blockchain consultant salary stands at almost $107,000 for one year. Some of you may find the salary estimate a bit disappointing to an extent. However, you must take many other factors such as experience, role and location of the job into account for determining the salary of blockchain consultants. Any aspiring professional interested in becoming a blockchain consultant would have curiosity regarding the skills you need for the same. 
On the other hand, it is also important to note that blockchain consultants need not only technical knowledge but also business knowledge to fulfill their responsibilities. Therefore, you would need a broader base of skills to become blockchain consultant in comparison to other blockchain-related jobs. Here is an outline of the top skills you would need to pursue the role of blockchain consultant. 
All-Round Expertise in Blockchain
One of the obvious skills you would need for the position of a blockchain consultant is all-round expertise in blockchain. As a blockchain consultant, you are responsible for using your blockchain skills and knowledge to guide business executives and decision-makers. Blockchain consultants use their blockchain knowledge to offer viable suggestions that could help their clients. For example, they can help decision makers choose a new scaling solution based on the business requirements for growth. 
The next important skill required for blockchain consultant jobs would refer to programming skills. Consultants need the ability to visualize the architecture of solutions that could serve the best results for a client. In addition, the programming skills of blockchain consultants are essential requirements for defining the essential best practices in a plan for designing and developing blockchain-based solutions.
Develop your career as a Blockchain Consultant. Start your Blockchain Consultant Learning Path today!
The list of blockchain consultant skills would also focus on the necessity for analytical skills. Blockchain consultants should look forward to the evaluation of different market trends alongside the available opportunities for a specific blockchain-based project. Most important of all, analytical skills are a crucial aspect of any blockchain consultant's portfolio. Analytical skills improve the capabilities of a professional to develop suitable technical specifications for the business requirements of a specific blockchain solution or project. 
Adaptive Mindset and Knack for Learning
The most important set of skills required for making the most of blockchain consultant salary packages would refer to adaptability. People aspiring for the role of blockchain consultants must look for new ways to adapt and use innovation to their benefit. Above everything else, blockchain consultants must have a knack for learning which sets them apart from their peers. Blockchain consultants must learn about the latest industry trends and new solutions frequently emerging in the market. The effectiveness of adapting to change can make a huge difference in the career of blockchain consultants.
Start learning Blockchain with World's first Blockchain Skill Paths with quality resources tailored by industry experts Now!
What is the Best Path to Become Blockchain Consultant?
Candidates who wish to have a career as a blockchain consultant must choose the ideal career path. If you want a blockchain consultant career path, then you must look for the ideal resources to hone your skills. Interestingly, the career path for blockchain consultants on 101 Blockchains is a lifesaver for many aspiring beginners. Apart from the assurance of a clearly organized career path with distinct training courses to help learners, the career path also features a certification. 
You can use the training courses in the career path to prepare for blockchain consultant jobs without wasting your efforts. The career path helps you strengthen your command of the essential skills needed for the role of blockchain consultant. Here are some of the notable milestones you can cover in the career path of a blockchain consultant.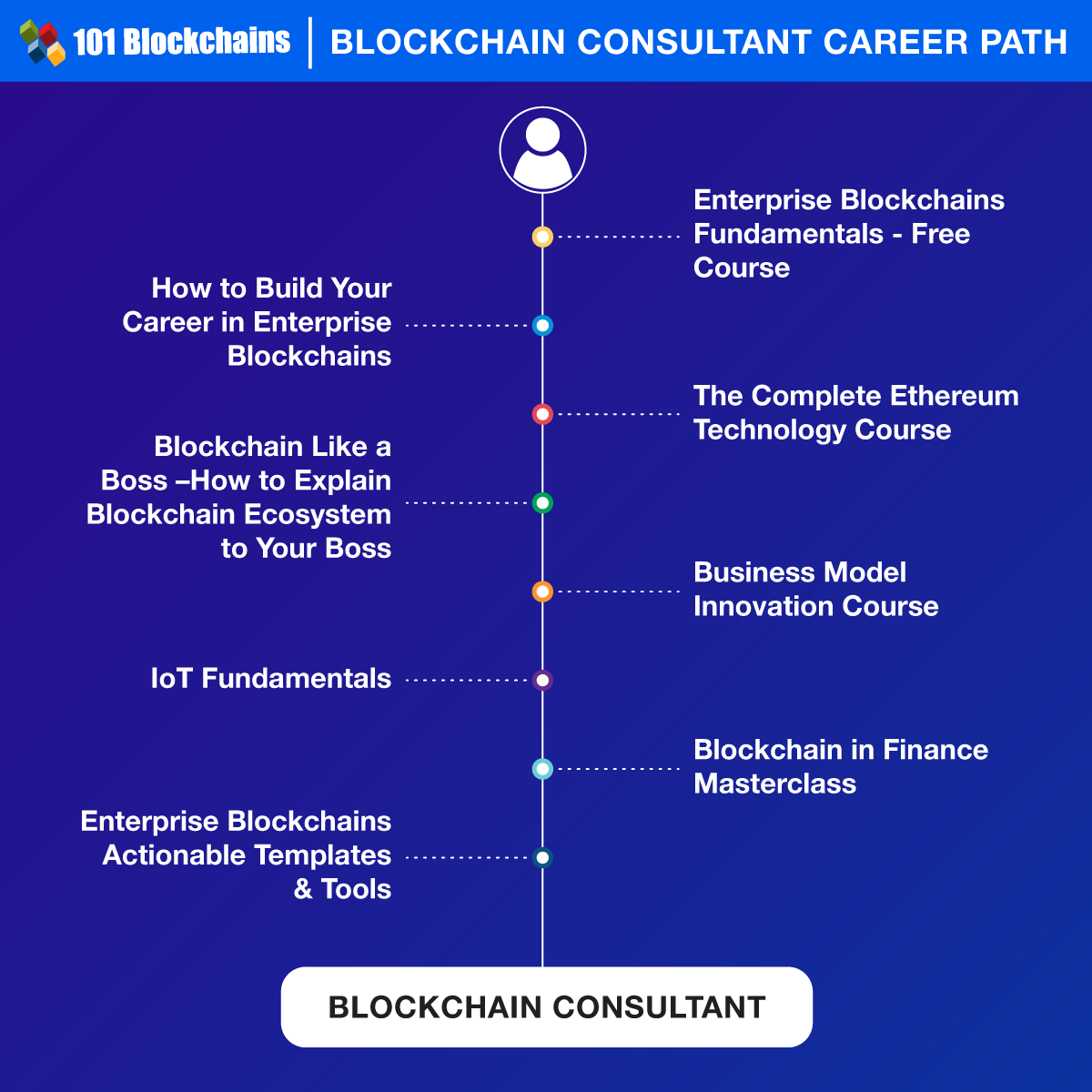 Excited to learn the basic and advanced concepts of ethereum technology? Enroll Now in The Complete Ethereum Technology Course
Final Words
The search for an ideal blockchain consultant career path can help you recognize the skills you need to become one. Blockchain consultants play a vital role in guiding the efforts of companies to embrace blockchain solutions. Even if blockchain has groundbreaking potential and can transform many sectors altogether, it is a mystery to many beginners. 
For example, tech professionals can learn about blockchain more easily, while the same might not be applicable to a senior business executive. Regardless of time issues or lack of awareness, it is not possible for everyone in a business to know about blockchain. The solution is evident in the form of blockchain consultants, who inform, guide and reinforce the blockchain transformation initiatives. Think of them as the wizards to guide you successfully through the journey of blockchain adoption.
Join our annual/monthly membership program and get unlimited access to 35+ professional courses and 60+ on-demand webinars.
---
*Disclaimer: The article should not be taken as, and is not intended to provide any investment advice. Claims made in this article do not constitute investment advice and should not be taken as such. 101 Blockchains shall not be responsible for any loss sustained by any person who relies on this article. Do your own research!