Fintech or financial technology has become the favorite term of many technology professionals and financial service experts. Almost every individual searching for a job in fintech would most likely wonder about the endless scope of fintech. A few years ago, the applications of fintech were primarily restricted to ATMs and digital banking systems offered by individual banks.
However, the existing state of technological developments in fintech draws attention toward blockchain, NFTs, and web3. The best thing about a career in the fintech industry is the opportunity to build your career in a thriving industry. Fintech has opened up multiple routes for professional growth and career development in recent times. Let us learn more about the different pointers you must follow for building your career as a fintech professional.
Excited to explore the impact of technology on financial services? Enroll Now in the Certified Fintech Expert (CFTE)™ Certification Course Now!
Why Should You Look for Fintech Careers?
The first thing you should know before finding out how to get a job in fintech would be the reasons for the same. One of the most clearly evident reasons for building your career as a fintech professional is the futuristic nature of fintech. Financial technology would evolve gradually into seamless solutions which can deliver financial services anywhere, anytime, on any platform. At the same time, the support of innovative advancements with other technologies, such as AI and machine learning, can help in driving a broader base of career development opportunities. 
As the functionalities of fintech gain the attention of business owners and startups, the prospects for pursuing fintech jobs will become brighter. On top of it, the average annual salary of fintech professionals is around $110,000 for entry-level roles. Professionals can also earn more average salary estimates of almost $130,000 per year. Furthermore, fintech professionals in executive or managerial positions are likely to earn more than $150,000 on average. You can notice how a career in financial technology can help you achieve a positive trend in the trajectory of your career graph. 
Want to become familiar with Fintech and its working? Join the Standard & Premium Plans and Enroll Now in Fintech Fundamentals Course!
What Types of Roles are Available in Fintech?
The salary estimate for fintech professionals serves as an effective impression of the reasons to look for jobs in fintech. However, you must have questions like "Is there a career in fintech?" before finalizing your decision to pursue a career in fintech. Financial technology professionals should note that you would not be limited to specific roles related to finance and technology. On the contrary, you can explore different roles in the fintech industry according to your past experience, education, and transferable skills. For example, an individual with an academic background in law can serve in the role of a legal consultant for fintech companies.
Some of the most promising job opportunities in fintech for you would include choices like software engineer, product manager, business analyst, and UX designer or developer. Each of these roles provides a steady career path for you in the domain of fintech. Interestingly, you can also find many other roles within the fintech landscape for expanding your career. 
Candidates can become fintech lawyers, data scientists, data engineers, cyber fraud investigators, business operations managers, or risk and compliance managers. All of these fintech jobs can not only build your identity as a fintech professional but also offer personalized benefits. The diverse range of roles available for fintech professionals shows that you can explore career development opportunities in fintech. However, you might have certain doubts regarding the ideal path for becoming a fintech professional.
Build your identity as a certified blockchain expert with 101 Blockchains' Blockchain Certifications designed to provide enhanced career prospects.
How Can You Become a Fintech Professional?
The futuristic potential of fintech, the salary estimates for fintech roles, and multiple career paths imply that a job in fintech can be rewarding. On the other hand, many people don't have the slightest idea about pursuing jobs in financial technology and where they should start the journey. What are the skills you will need for fintech? How can you switch from your existing role into fintech? The answers to these questions would be crucial in defining your career path in fintech. You can use the following pointers for navigating different roles in the field of fintech.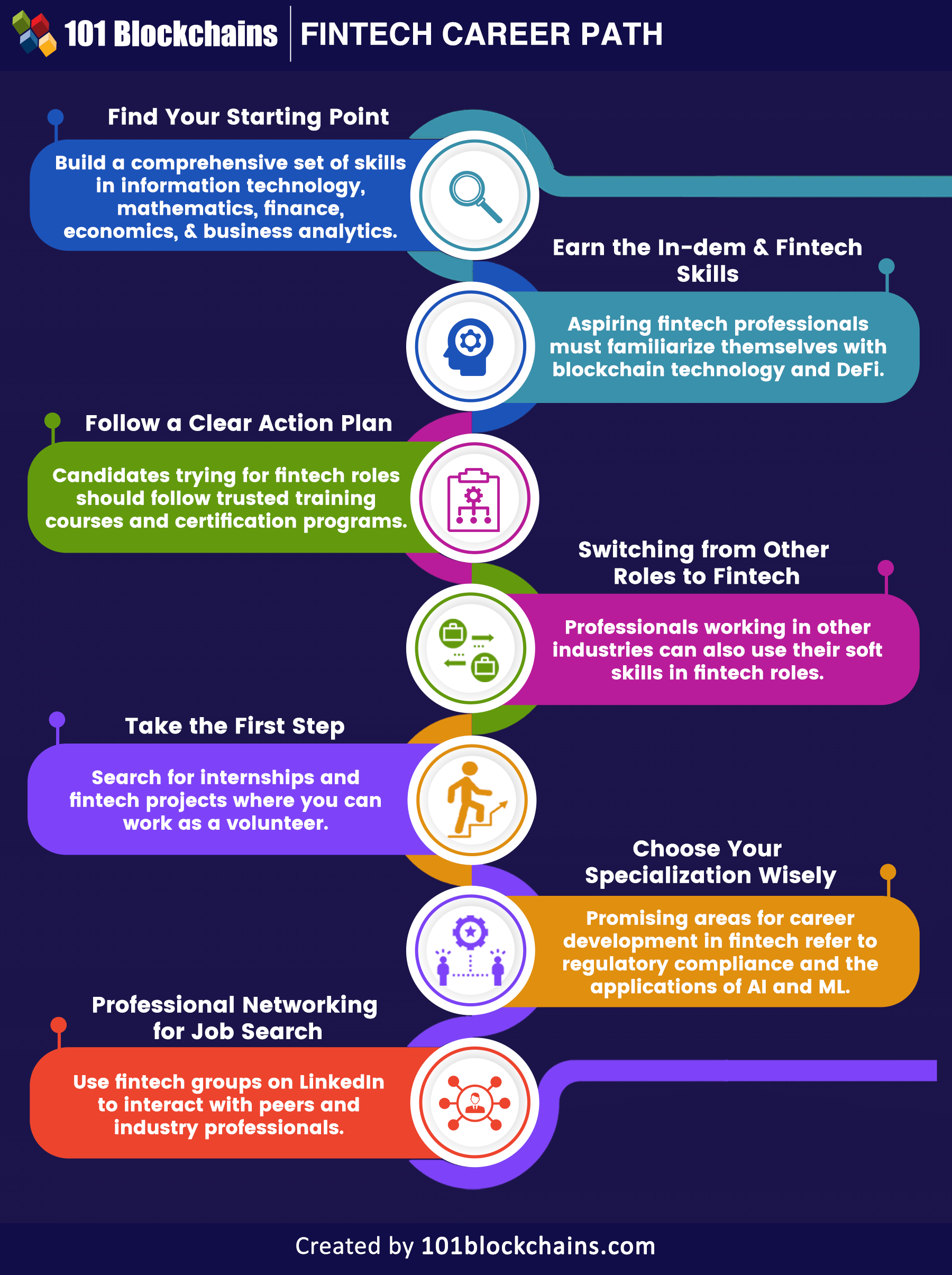 This section is suitable for recent graduates who plan to become fintech professionals. New graduates can experience difficulties in identifying a career path that could align with their skills and career goals. One of the first aspects associated with 'how to get a job in fintech' would point to the need for education. If you start early in the journey of learning about fintech, then you can build a comprehensive set of skills. 
High-school graduates can think of suitable majors in their undergraduate studies for pursuing career goals in fintech. Some of the essential subjects required for high-school graduates would point at information technology, mathematics, finance and economics, and business analytics. On top of it, skills in digital marketing can also serve valuable advantages for your career growth. 
Learn the most popular fintech questions for fintech job interviews. Check the detailed guide Now on Top 20 Fintech Interview Questions And Answers
Earn the In-demand Fintech Skills
The mandatory recommendations for pursuing career paths in fintech also involve references to the need for important fintech skills. You can build a secure career in fintech only if you have the skills which can deliver value for employers. Some of the essential skills you would need for jobs in financial technology include machine learning, artificial intelligence, programming, data analytics, and cybersecurity. Fintech professionals would also need expertise in operations management, fundraising, and customer experience management. On top of it, aspiring fintech professionals must familiarize themselves with the working of financial services and products. 
The list of in-demand fintech skills would also include blockchain technology for its ability to offer decentralization in financial services. As a matter of fact, blockchain experts can find easier ways to land fintech jobs of their choice. Why? You can take note of the different blockchain-based applications which have transformed financial services. 
For example, cryptocurrencies have provided an alternative to fiat currency for storing and exchanging value. Similarly, DeFi solutions based on blockchain technology have removed the barriers to access to financial services. You can develop an in-depth understanding of how blockchain works in the domain of fintech with the help of professional training courses. 
Many candidates want to build a lucrative career path in financial technology by using fintech as the foundation. However, most of them wait for the right opportunity, which never comes. On the contrary, you need to capitalize on job opportunities in fintech before anyone else does. Therefore, the importance of taking the first step toward your career as a fintech professional can never be undermined. 
You can search for internships and fintech projects where you can work as a volunteer. Most important of all, pay attention to the details of the project and company you would be working with. You should try to avoid applications for every fintech firm or project you come across. Make sure you include the details of your internship or volunteer work on fintech projects in your resume. 
Switching from Other Roles to Fintech
The decision to change your career path can be challenging and demands a lot of courage. You have to take on risks and address doubts such as "Is there a career in fintech?" before taking the decision to pursue fintech roles. However, the scary risk of changing a career should not hold you back from seeking job opportunities in financial technology. The good thing about jobs in the world of fintech is that you can use certain skills from existing roles. For example, web programmers can put their web development skills to use for creating online financial service platforms. 
Similarly, professionals working in other industries which depend on collaboration and teamwork can also use their soft skills in fintech roles. For example, a fintech professional can make the most of their interpersonal skills, such as verbal communication, for addressing customer experience issues. All you need to do is overcome your apprehensions regarding the feasibility of career paths in fintech. 
Start learning Blockchain with the world's first Blockchain Expert Career Path and become a Blockchain Expert!
Follow a Clear Action Plan
The chances of success in a fintech career path can turn into tangible benefits only through a clear action plan. Without a plan, you are more likely to hit dead ends in your fintech career path. Which job role do you want to pursue in fintech? What are the skills you need for the fintech job of your choice? How can you learn the skills and knowledge required to become a fintech professional? 
You can use your action plan as a vital tool for answering all these questions. A clear outline of your career objectives for pursuing a job in fintech can help you maintain accountability for your studies and preparation. Speaking of studies and preparation, candidates trying for fintech roles should follow trusted training courses and certification programs. 
You can rely on the blockchain training courses on 101 Blockchains alongside their training resources on other important fintech concepts. For example, the courses on business model innovation and introduction to DeFi can help you familiarize yourself with the intricacies of the fintech industry. Interestingly, you should also seek professional fintech certifications to strengthen your claim for desired fintech roles. 
Choose Your Specialization Wisely 
Another crucial step for building your career in fintech would refer to a selection of your specialization. You need to set your eyes on the target before the race starts. A clear overview of the popular specializations in fintech can help you make the ideal decision for your career. 
The doubts regarding career opportunities in fintech can find a suitable response with references to the essential pillars of fintech. The most important pillars of fintech which can help you find jobs in fintech include payment processing, consulting, open banking, neo-banks, blockchain, and digital asset management. 
Some of the other promising areas for career development in the domain of fintech refer to regulatory compliance and the applications of AI and ML. You must note that choosing a specialization does not restrict your abilities as a fintech professional. Fintech professionals can pursue continuous professional development by learning additional skills. 
Not sure how to build your career in enterprise blockchains too? Enroll Now in the How to Build Your Career in Enterprise Blockchains Course
Professional Networking is the Key Element for Job Search
Candidates seeking fintech job roles are less likely to pay attention to the need for professional networking in the initial stages. As a beginner in fintech, you would assume that fintech professionals would not like to have a conversation with you. On the contrary, fintech industry experts are always interacting with the community to unearth new insights and talent. 
You never know how your search for job opportunities in fintech can lead you to become a thought leader in the fintech landscape. One of the best platforms for professional networking is LinkedIn. The biggest advantage of LinkedIn is the flexibility for sending connection requests to fintech professionals. 
Do you know how to grab the attention of fintech industry experts? LinkedIn can help you find the answer through the advantages of professional networking. You can create your identity as a fintech expert by publishing articles on fintech concepts and emerging fintech trends. Share what you know about fintech and learn what others know about fintech. 
As a result, you would not only show your fintech expertise but also improve it along the course of your professional development journey in fintech. On top of it, you can use fintech groups on LinkedIn to interact with peers and industry professionals. As you grow your connections on LinkedIn, you can get closer to the fintech job of your choice. 
Want to know the best tips to navigate through the career path in blockchain too? Check the detailed guide Now on Top 10 Tips To Start A Career In Blockchain
Final Words
The guide to pursuing a career in fintech showed the important highlights required for your fintech career path. One of the essential things you need before pursuing jobs in financial technology is the solution to doubts regarding the potential of fintech. You must find answers to questions like "Is there a career in fintech?" to build your commitment to fintech roles. 
Most important of all, you must emphasize a clear action plan with an outline of your career goals and preparation objectives. Candidates preparing for fintech roles must also pay attention to the choice of training resources and certifications to prove their fintech expertise. Learn more about fintech and the advanced technologies which would define the future of financial services. Find reliable training courses on fintech concepts and start your journey of becoming a fintech professional now. 
*Disclaimer: The article should not be taken as, and is not intended to provide any investment advice. Claims made in this article do not constitute investment advice and should not be taken as such. 101 Blockchains shall not be responsible for any loss sustained by any person who relies on this article. Do your own research!